Guitar Tab For Guitar Lick Videos
This page contains only posts that include the guitar tab for my weekly guitar lick videos.
Want to dive deeper? 50 Guitar Licks - Vol. 1 allows you to download an easy-to-navigate pdf document containing the first 50 licks. Analysis of each lick is included with audio (including a count-in) played at various speeds.
50 Guitar Licks - Vol. 1 also includes access to my private community to support your learning. If you do not understand a lick, your questions will be answered by me. You can also discuss ideas with me and other community members to help accelerate your learning and inspire your creativity.
For a limited time, I am offering 50 Guitar Licks - Vol. 2 free when it becomes available. That's 100 licks and a lifetime's worth of musical possibilities for an insanely low price.
Hurry before the offer ends!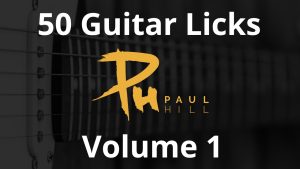 50 Guitar Licks - Vol. 1
+ Vol. 2 Free When Released
(Limited Time Bonus)